RAW BRIGHT is leading total solution supplier of production facilities and processing lines for the manufacture of FOOD and FEED . Our expertise is engineering, contracting and project management. We plan, design and manage the building of production facilities and processing lines.
Creating efficient and effective solutions
RAWBRIGHT® International provides a wide range of technology for the dairy, food, beverage, starch and nutraceutical industries. From the initial wet processing to the final product drying, our experts can provide entire systems or individual units.
All equipment from RAWBRIGHT® International is designed in cooperation with you to fit your needs and requirements. SiccaDania factory setups and processes are based on customised standard solutions, which allows for a unique, yet standardised control philosophy for the overall automation (PLC and HMI).
With ATEX engineers, automation specialists and installation professionals, we ensure the best in class technology for your application.
Technology Application Equipment
Membrane Filtration Plants
RAWBRIGHT® International Crossflow membrane filtration technologies provide so many possibilities and options today – and selecting the correct and most optimal solutions for any given application can be a challenging process. From white cheese, fresh fermented products like Skyr, Greek yoghurt and Cream Cheeses, Lactose reduced products to the concentration of milk and plant-based proteins, solids and nutrients, membrane filtration allows for a wide range of processes.For some products, membrane filtration is the only viable solution for achieving feasible results.
LeanFlux
Rawbright Filtration continuously improves designs and concepts, creating better and more efficient processes for crossflow membrane filtration.
Microfiltration
Microfiltration covers a relatively wide range of membrane pore sizes. Rawbright Filtration designs units with either ceramic or polymeric membranes.
Nanofiltration
Nanofiltration covers a narrow range of membrane pore sizes. Rawbright Filtration designs units with polymeric membranes for solids concentration and mineral reduction.
Ultrafiltration
Ultrafiltration has a small pore size which makes it preferable for protein concentration. SiccaDania Filtration designs units with either ceramic or polymeric membranes.
Reverse Osmosis
Reverse Osmosis is the smallest of membrane pore sizes and is typically designed using polymeric membranes. RO technology applications involve pure concentration and volume reduction processes.
Microparticulation
Rawbright utilises a unique combination of thermal and mechanical treatment processes for our Microparticulation design called μ-Pro™.
Pilot Plants
Pilot Plants are a great way of testing a setup or new application before scaling up. With the Rawbright Filtration pilot plant range, customers can test any setup.
PreVap
SD PreVap - a unique combination of membrane filtration and evaporation to reduce OPEX and CAPEX for our customers.
RAWBRIGHT® International offers premium quality industrial dryers for the dairy, starch and food industries. Our reference list represents a broad number of installed plants. We offers you a collaboration with an experienced team consisting of our process- and design engineers, project managers and skilled installers.
Spray Dryers
Rawbright designs and builds energy-efficient, reliable spray dryers customised to fit our customers' specific building requirements and product specifications.
Zeta Dryers
Rawbright provides the optimal drying solution for high-viscous products – The Zeta Dryer. This dryer is designed to dry proteins, fibres, and paste-like chemical products.
Flash Dryers
Rawbright flash dryers provide customers with rapid drying of starches, fibres and plant-based proteins.
Ring Dryers
The Rawbright Ring Dryers are perfectly designed for extended drying of starch, fibres, and proteins such as gluten.
Fluid Bed Dryers
The Rawbright fluid bed dryers are designed to apply the final drying and cooling of the product without leaving the product behind.
Small Scale Spray Dryers
Rawbright Small Scale Spray Dryers provide high-quality products at a smaller scale. Therefore, they allow our customers to innovate and experiment on a small scale before upscaling.
Rawbright provides our customers with the next generation of freeze dryers – from small-scale pilot plants to full-scale freeze-drying factories.
Starch Processing Solutions
The quality and value of the final starch product are largely determined by the washing of the crude starch. White high-quality starch can be obtained only if fibre fragments, lipids, proteins and dissolved substances are washed out efficiently. Process steps in this stage are a multi-stage washing process, fine fibre separation and starch recovery from the wash water.  
The starch is washed by concentrating diluted starch in suspension and diluting it again with clearer water. In this way, contaminants are removed.  
By using a counter-current flow principle, the amount of freshwater used is small. After this multi-stage process, almost all contaminants are washed out.
De-Sanding Cyclones
Sand and other particles quickly become a problem in the processing setup but are easily solved with the de-sanding cyclone. Rawbright's de-sanding cyclones provide customers with protection against "snipers".
Sanitary Multi Hydro Cyclone
When purity cannot be compromised it is important to have a means of protecting the process and the starch. The Rawbright sanitary multi hydro cyclone provides customers with a 100% hygienic cyclon
Centrifugal Sieves
The Rawbright Centrifugal Sieves are designed to generate the maximum possible starch yield through low freshwater usage, and minimal downtime.
Raspers
The Rawbright rasper series are designed for starch and protein extraction. The purpose of the unit is to open the cells and release the starch and proteins.
Vacuum Filters
Seventy years of continuous innovation puts Rawbright ahead in vacuum filter design for the starch and general food- and non-food industries.
RAWBRIGHT® International offers a wide range of solutions to promote clean air and dust reduction, ranging from (bag) filters and special cyclones to barcol scrubbers. We are happy to assist you in finding the right solution for your specific situation.
Gas Cyclones
Gas cyclones from SiccaDania have been optimised throughout the years to provide customers with the most effective cyclone to separate dry solids from gas.
Scrubbers
The scrubbers are an efficient and effective technology to separate particles from gas by using a sprayed liquid.
Sanitary Bag Filters
We provide premium quality bag filters for powder recovery within the dairy, food, chemical, cosmetic and pharmaceutical industries.
Pulse-Jet Bag Filters
Rawbright pulse-jet bag filters are designed in a variety of sizes for food, feed, and the (petro-) chemical industry
Our rotary vacuum filters are available in three different main designs. Each addressing to the specific application of the operator. Numerous options can be selected to further match the specific requirements. Our filters are operated in the food & beverage, chemical and foodstuff industries.
RAWBRIGHT® International specialises in designing, engineering, and installing evaporators for our customers in the dairy, starch and food industries.
We work together with our customers to ensure that the correct solution is provided for the specific application. With our application and technical experts on hand, we can provide customers with the most efficient setup.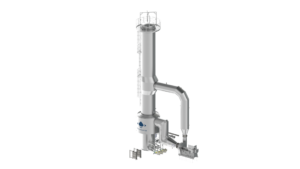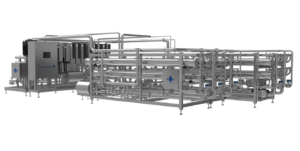 Because of its features, the IQF Freezer is known for creating unique aerodynamics. The bedplate configuration, overall freezer design and shape, and the high-performance fans with frequency converters contribute to a high-quality IQF result.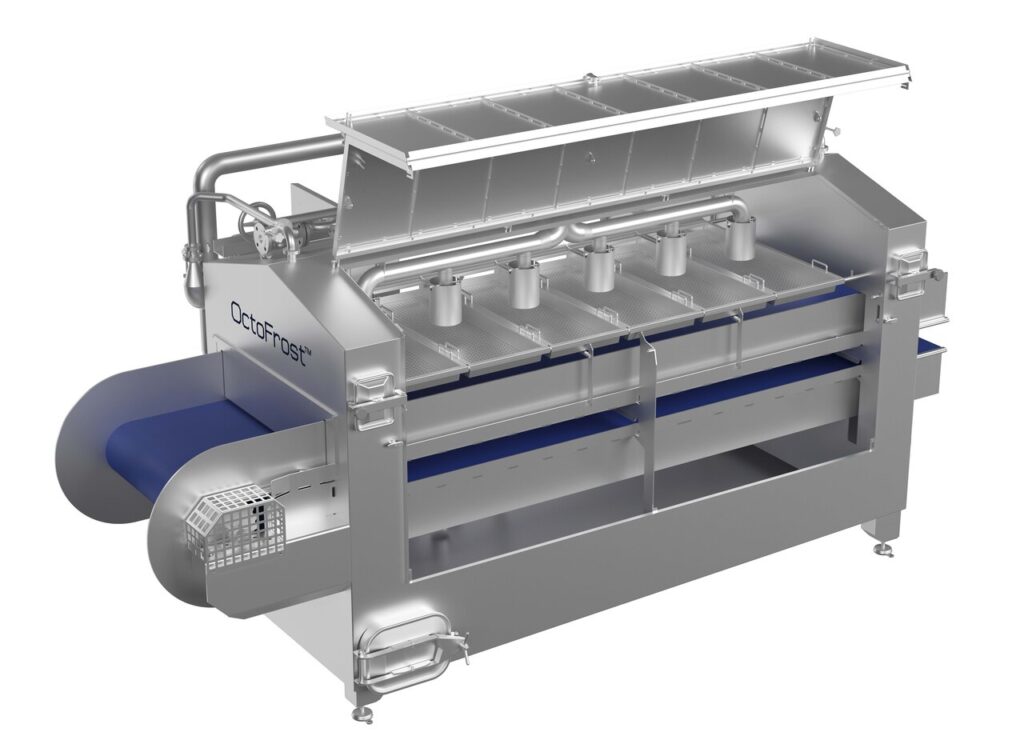 With the Impingement Flash technology, the blanching time is reduced to a minimum, preventing over-blanching and reducing time and energy consumption. The user of the IF Blancher has absolute control over the blanching termperature based on exposure time.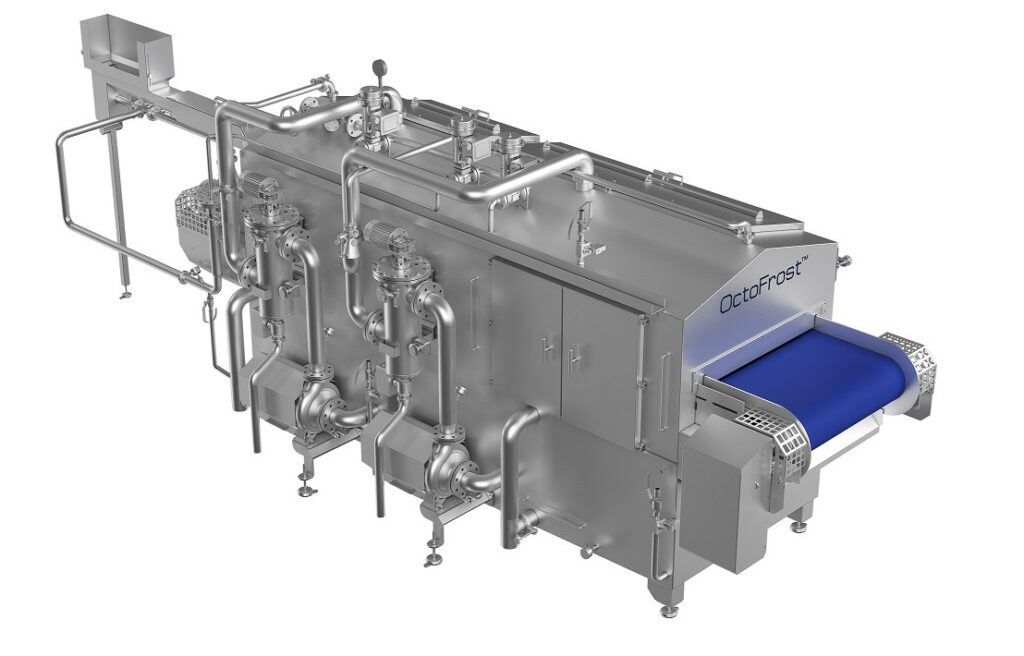 The 3 temperature zones of the  IF Cooker provide optimal flexibility and control of the cooking process. The set temperatures can be stored in a recipe inside the touch-panel for every single batch of shrimp. The IF Cooker accurately controls the temperature in each zone.
The water in the IQF Chiller is filtered, recirculated and then chilled by the plate heat exchanger (PHE). The PHE provides ice-cold water with a temperature of 1°C. The system is designed to reach a product core temperature of 5°C or less. A low product core temperature translates in better IQF freezing result and a higher yield.
We designed the Impingement Freezer for a small footprint. Instead of using a single belt like that in cryogenic freezers, OctoFrost's Impingement Freezer uses three conveyor straight belts that double production capacity per square metre of factory space. It offers several advantages to frozen food processors, including higher load capacity, preserved product shape and flexibility to run different products on each level.
Fruits & Vegetables Processing Lines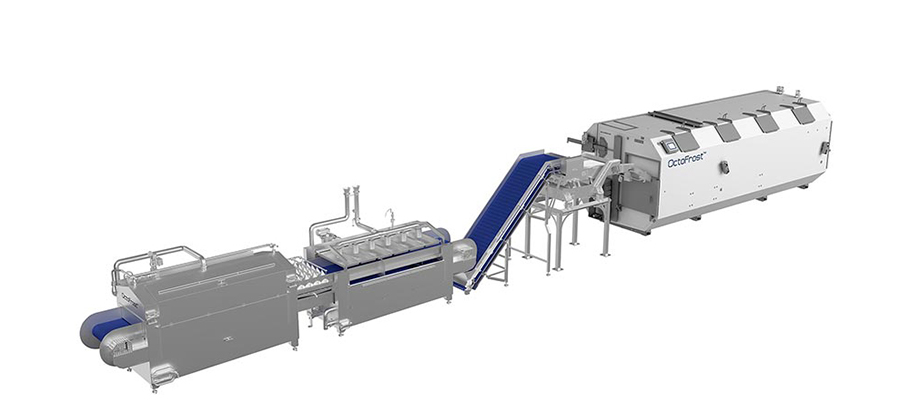 Pelleting Equipment & Spare Parts
RAWBRIGHT Hammermills are a very strong and low maintenance construction for optimal performance in sizes from 5 to 500 HP to grind materials in the whole range from A to Z. Similarly, screeners and beaters for other brands are available. Our hammermills operate with a load-regulator, so as to achieve a 100% mill utilization and significantly to reduce the susceptibility.
RAWBRIGHT counter current coolers are characterized by a special construction, where the cooling air is sucked by a fan through the ground of the cooler and through the adjustable pellet layer. The ground of the cooler is close to free-flowing products, yet breathable. If necessary, the lamellar construction ensures complete emptying. Wet spots or adhesions can be prevented. A bridge formation in the cooler is excluded.
RAWBRIGHT crumblers are simple and maintenance reduced constructions with pneumatic operated bypass flap. For some animal species, such as juvenile, the pelleted feed is structered too coarse or too hard to be eaten in sufficient quantity. So, mainly in the compound feed production, the pellets are therefore crumbled in special machines – the crumblers – to get smaller and therefore more easily chewable particles.
Burner with insulation (1)
Rawmaterial inlet – dosing of the raw material into the drum (2)
Connection (insulated) for inserting the raw material into the
drum (3)
Rotating drum (insulated) (4)
Discharging chamber (insulated) (5)
Cyclone for the fines return including airlock (6)
Size: 2 pcs. 40″ Containers = 2,3m x 2,3m x 12,0m
Connection power 200 KW
Consumption value about 80 % of the terminal value
Time of erection approx. 4-5 hours, crane of 20 to needed
Chopmills are sturdy, simple and maintenance reduced constructions which combines an original type crushing machine with a drum type crushing machine into one machine.
Producing first class saw-dust and high-quality wood chips from saw-mill residue, round-log and other scrap wood (hard- and softwood)
Centrifugal screeeners are used for a quick and efficient cleaning of the pellets from fines. A guarantee of a full 100% absence of dust cannot be given with any form of pelleting. In order to reduce the percentage of dust to an acceptable level, all pellets are screened and passed through aspiration. One outstanding feature of our centrifugal screeners, which have been designed especially for this task, is their operation low in vibration and their high capacity.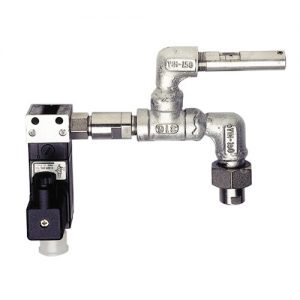 RAWBRIGHT fatspray systems consists of a special designed selfcleaning slotnozzle, controller, pomp, TASC-variodrive, flow-sensor and heating tape for the pipe.
The selfcleaning slotnozzle is not creating oilmist as the fat is just sprayed to the die surface by the normal pressure of the oilpomp.
Just for the cleaning process the slot is opened up to 8mm by compressed air which takes less than 1 second. The frequency of the cleaning process can be set by a timer.
Ringdie pelletmills RMP are welldesigned and compact constructions. They are operating on all continents under various conditions and represent an optimum in economy for the customer. Our Ringdie pelletmills are V-belt driven units from 7-450 HP with two equal-synchronous drives (optional with only one drive available) and extendable to double-pelleting, longterm-conditioning, fat-coating at the die, automatic control, etc.
Specially Designed Machines
Carousel dryers and -coolers ensure the best product treatment and produce on basis of their circular cross-section a homogeneous process air, resulting in a uniform drying or cooling of each particle. The carousel system consists of several rotating decks, which transport the material from the top to the bottom through the system. Each deck consists of several screen trays. Similar to a carousel, each of the separate trays is tilting automatically, one after the other, so that the product can slowly and gently slide down onto the next deck underneath. A very homogeneous drying or cooling process is guaranteed.
RAWBRIGHT extruders are simple and maintenance reduced constructions for the treatment of grain, fish feed and petfood. With this treatment of compound feed in the form of meal, the food is mechanically suspended in a pressure vessel at high water steam adding with high pressure. Whereas, temperatures of up to 130 °C and a pressure up to 50 bar during a contact time of 5 – 10 sec are reached. Like in a cooking process these conditions change starch and proteins and thus increase the digistibility. Potentially contaminated indigestive substances are destroyed. The most pathogenic bacteria are killed.
 RAWBRIGHT chains are especially manufactured to your needs.
The scrapers are made of a special synthetic material and their wear and tear is 50-70 % less. They are resistant to corrosion and antistatic – thus requires a less abrasion.
Horizontal form fill and seal flow wrappers (HFFS) and flow pack wrappers with film control, NPNB (No Product No Bag), MAP (Modified Atmosphere Packaging), gas-flushing and servo driven, sanitary modular design for both food and non-food industries.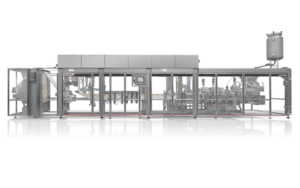 New range of innovative high speed pouch machinery with an unique dual motion system composed of an intermittent station for pouch forming and sealing and a continuous station for product filling.
Precise weighing machines, multihead weighers and counting systems with sanitary design, specifically developed for food applications by food industry experts at Ilapak.
Vertical packaging equipment VFFS (Vertical Form Fill and Seal) – continuous and intermittent film motion vertical bagging solutions with film control, NPNB (No Product No Bag), servo driven, sanitary modular design
Other Processing Equipments
Used for the application of oils, fats, hydrolysates and taste enhancers in the extruded of dog and cat food with or without a vacuum system.
Allows the addition of large percentages of fats for premium food.
Allows the exact control of amount of oil or molasses added to the food, resulting economy.
Possibility of addition of molasses to the pelleted feed for the production of horse feed.
Promotes better homogeneity of feed after oil/molasses application.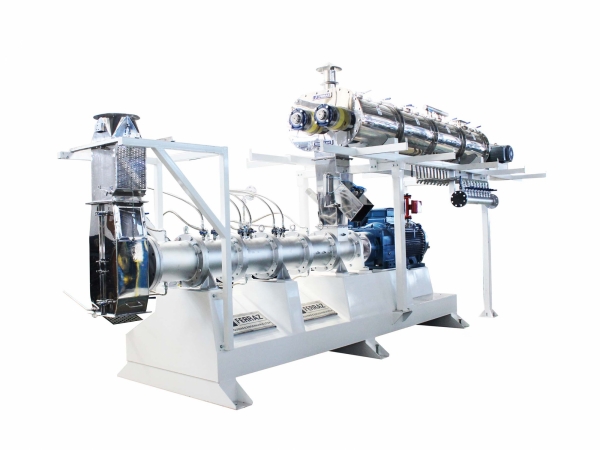 Single screw extruders to produce feed for fish, bird and pet, with capacities ranging from 60 to 14,000 kg/h.
Cast stainless steel jackets and screw, with increased durability and decreased wear. Excellent cost-benefit ratio per produced ton. Pre-conditioner, stainless-steel stirring tank and dosing screw.
Possibility of steam injection into the pre-conditioner and cannon barrel as well. Cannon barrel cooling system with water and steam heating.
Exclusive support system to prevent excessive wearing at the cannon ends.
Various capacities, ideal for production of various kind of product such as : bicolored  Nuggets and snacks. Provides better cooking and further expansion of the product. It allows the extruder to produce product with lower final densities.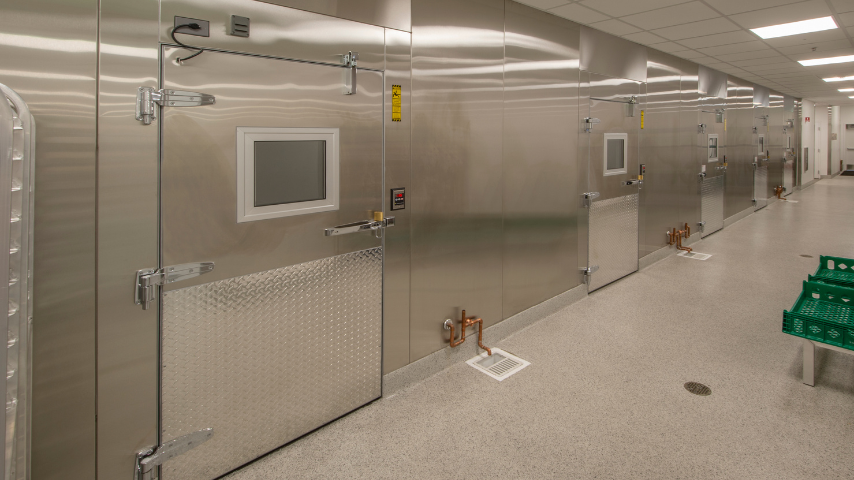 We design custom made plants for nearly all known crop types. Many technology solutions for corn, sunflower, soya, pulses, grass and grain seeds, as well as paddy rice, among others, have been planned and executed successfully all over the world during the previous decades.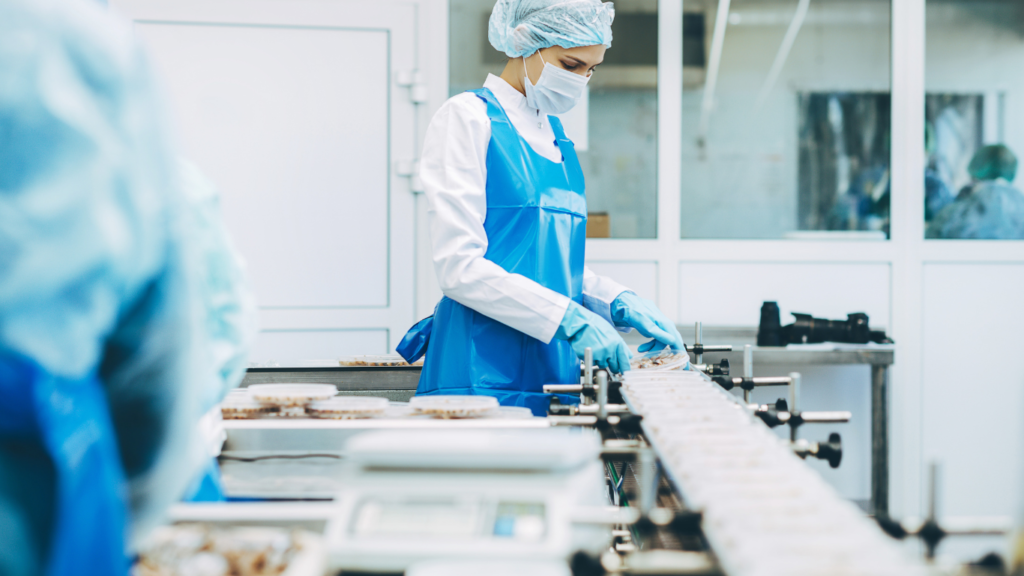 We offer technologies to increase the value of the seed. Complex seed coating, optical analysis and sorting, quality monitoring, hygienisation of seed and data collection are only few examples how to enhance the quality of seed.
With RAWBRIGHT Selecta B. V. / NL, we have integrated into the exciting world of fine seeds. Innovative technologies have created benchmark products in this segment.
Raw Bright has experienced phenomenal growth since 1994, as premium supplier of raw materials and nutritions worldwide with large numbers of raw material suppliers in Europe, North and South America with superb results, with a good market share.
Our grain plants form the physical base for our technological development of the business. Special focus is laid on the value-add of product quality increase, the protection of quality and the creation of marketable by-products.
In case you are envisioning or planning a new plant und are not sure how to plan the technical side, – civil structures, infrastructure and electro planning – we are happy to assist, also with the construction. .
Mobile plants are super flexible solutions, which are ideal for servicing smaller independent farms. There are several models to suit capacity and processing needs.